Welcome to
DEFINE: The Woodlands
Welcome to DEFINE: The Woodlands! A fitness studio focusing on yoga, barre and spin classes. We're happy you're here. This is the place to keep up on all the happenings in our studio: you'll find The Woodland's class schedule and be able to register for classes, check out info on our special workshops and learn more about our wonderful staff. For more information, contact us here!
<<

Schedule for Fri Oct 31, 2014 >>
Fri Oct 31, 2014
Class
Instructor

Workshops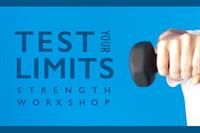 Strength Workshop

with

Sabrina

Militello
Next held on Sat, Nov 8, 2014 at 1:00 pm - 2:00 pm
This
enrollment
runs from Sat Nov 8, 2014 - Sat Nov 8, 2014
Test your limits! Whether you're brand new or already hooked on DEFINE's isometric approach for endurance and strength training, this workshop will show you how to reach your next level, both physically and mentally.
Based on a curriculum created by Certified Personal Trainer and DEFINE Instructor, Sabrina Militello, incorporating aspects of DEFINE body and DEFINE revolution, this workshop will integrate basic to advanced DEFINE positions along with high intensity resistance training. You will learn the proper form for every curl, push up and endurance challenge.
Ideal for men who have wanted to try DEFINE and women looking to up their strength, you won't want to miss this workshop. Prepare to test your boundaries and push yourself to the max!
Learn More
Join the DEFINE The Woodland's Facebook community

for news, events, and more about the studio and instructors.

Find Us >>